Special Nights For The Future Brides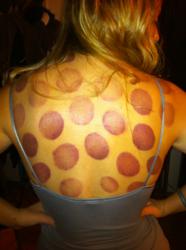 Most future brides would likely want some excess to make their hen party memorable, to splurge in some way, either by means of a cloth shopping spree or huge spending on sweets, perfumes or expensive trips to some exotic locations. The idea is to feel as good as possible in your skin, isn't it? But, maybe, equaling splurging to feeling good is just a hen party myth. Maybe, you could feel as good and surely special by giving instead, especially if the said hen party is held in the holiday season.
Whether you had done some charitable work in school, contributing to the food bank or doing social assistance hours in a shelter or nursing home, or you have no experience at all, how about doing it now, in the form of a charity themed hen party?
There is no question about it's not being done before, therefore being special, and no question either that both you and your friends may have also fun by choosing the most exquisite Santa Claus costumes you may think of. For yourself, you may choose a scarlet velvet dress with hems of snow white plush, a scarf to match and white boots, while your friends may dress into as many green elf girls helping your charitable enterprise. Wouldn't you all look cute serving those seniors with their soup or showing them one by one their gifts, appearing as by magic from their stockings?
And what about visiting a foster home in that outfits and presenting those girls with so many dresses you no longer wear? Wouldn't you feel ten times better and wouldn't your hen party feel more memorable than a splurging one in whatever form? Just think about all those children eyes looking at you in your costumes as to real Santa Clauses or so many fairies from tales. Looking magic might be more satisfactory to you than looking spicy this night. Those costumes work either way, depending on the situation and mood you wear them in.
So if you want to have an unheard-of hen party in the spirit of the season, no better way than to play Santa before those that still need or believe in it. Accessorize your toilet with stockings full of gifts, and your hen party will perfectly blend with a Christmas party, worth of being remembered.